As much as I have trained my pet, he can sometimes be a bit lazy.
He forgot to do some chores the day before.
But I wasn't listening to any of his excuses.
Before I left for work I had him get into his PVC maids dress.
It was actually clean, I am a terrible photographer.
So he didn't take it off the second I walked out the door, I found a little padlock.
I fastened the zip of the dress to the ring on his collar that is locked onto his neck.
now he couldn't get out until I came home from work.
To finish the outfit I made him put on
fishnet stockings
, gave him a peck on the cheek and left for work.
I use the maids dress as a punishment for slave boy because he hates it. He finds it really embarrassing and awkward. I found out about this by interrogating him as I said 
here
.
Through out the day I could just imagine him avoiding the windows and hoping no one knocks the door.
That is when I had an idea.
My kink friendly friend Jane lived near by, so I called her up to arrange a little visit to my house to borrow something. I told her what I had done and she was more than happy to help.
She phoned me and said she had knocked for 10 minutes and he didn't answer.
I knew he could not have left the house so he's in for it when I get home, making one of my friends stand out in the cold will be a long punishment, probably one done outside in the cold.
I told her where the spare key is.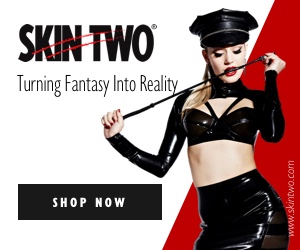 She let herself into our house and finally found slave boy hiding behind the breakfast bar.
She tells me that she wasted no time at all in laughing at how silly he looked.
then she said "I'm surprised you didn't make him wear stockings as well!"
He is really in for it now when I get home,  I couldn't believe he's been so naughty today!
I txt'ed him and told him if I receive a Salfie on my phone from him in the next 60 seconds he will get a special treat.
Sure enough he didn't have his stockings on.
Tomorrow he wont have that option.
I got home from work and found him kneeling at the door waiting to kiss my feet, just as he was trained to.
"I see you have your stockings back on" I said, and walked passed him over to the back door.
He gave me a sly little smile that told me that he knew he had been caught out.
"And you made my friend wait out in the cold"
He tried to apologise, saying he couldn't believe I would let anyone see him like that.
But I just opened the back door and pointed to the shed in the bottom of the garden.
Inside the shed I removed his 
French maids dress
. (link to store to one similar) and left him in the nude for an hour locked in the shed to think about what he had done.
The following day he had
latex stockings
on, with strappy shoes, that had a little padlock all of their own.